I saw the most adorable shorts on the
jcrew
site at the beginning of summer and pinned them right away. Then I reminded myself of Emily's long standing rule regarding shorts and pants being unexceptionable and decided not to waste my time. Well as luck would have it about the same time as I decided she had enough clothing for really several 4 year old girls she suddenly decided that she needed girl shorts. My initial reaction was to say no you can wear the 2 pairs you have but after a few too many morning arguments I agreed to make her a pair or two. Honestly, it just wasn't a battle I was willing to fight plus I would love to make some cute winter pants.
I made these from leftover fabric to go with this top that I made last year. Its still pretty big on here so I'm hoping to get at least one more year out of it.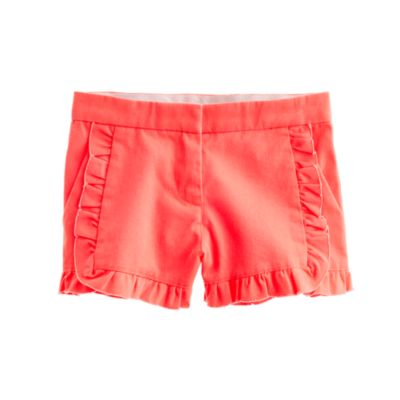 These are the inspiration shorts. Mine are not exactly the same but I'm pretty pleased just the same.
Here's a front view. The rise is a little long. It was my first go at the basic pattern that I used and If I make it again I will take just a bit off the rise.
Here's the size view. I also made you guys a quick tutorial of sort. Now let me be clear that I am not the world's greatest tut writer but I hope its helpful. I know there is one out there for using and Oliver and S pattern but I didn't read it since I don't have that pattern. So I'm showing you how I did it from just a basic 2 piece shorts pattern. Mine was from Ottobre 3/2011.
Now its done yeah! This is my first attempt to link to a google doc so if it doesn't work by all means let me know.